Elizabeth Bettendorf, St.PeteTimes Correspondent
Original Print: Friday, August 15, 2008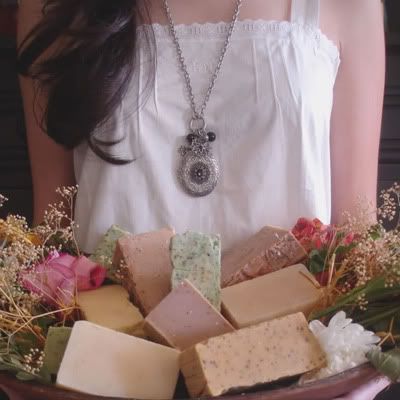 Photo by Cynthia Young-Jennings
Cynthia "C.J" Jennings remembers the first time she picked up a paintbrush as a child. She didn't put her brush to canvas or even paper. Instead, a pair of her father's old Army boots — souvenirs from Korea — caught her eye.

Jennings painted a landscape on the boots, inadvertently foreshadowing a major decorating trend decades later.

"I was doing primitive and shabby years before anyone had ever heard of it," she recalls. "I was painting on old things before it was the thing to do."


These days, Jennings puts her artistic talents to use in her small family business, Sweet Harvest Farms,

w

ww.sweetharvestfarms.com.

The farm is quasi-fictional, just a cute, two-story yellow house off Interbay Boulevard that she leases with her husband, Duane, a training director at MacDill Air Force Base Central Command.


Her Web site, filled with old photos and uplifting quotes, looks much like the inside of her home, which is layered with antiques, quilts, estate-sale finds and Jennings' own handmade primitive dolls and folk art.

The best part of the house is the way it smells: A blend of botanicals, herbs and spices permeates every room. The good smells are the result of her latest venture: luxurious goat's milk soap that she makes by hand in her kitchen.
"This is true soap made for healing properties," says Jennings, who also adds things like Olive oil, Shea butter, Coco butter, Flaxseed Oil, Jojoba Oil and others. Her clients rave about soft skin and sweet-smelling houses.
"I have people who use my soap and won't use anything but," says Jennings, a regular vendor at the Saturday Morning Market in St. Petersburg,Fl,the Base Exchange at MacDill Air Force Base, at the Relic on Manhattan, Blue Moon Trading Co. in South Tampa. Sweet Harvest Farms soap can be found in many other Spa's, Boutiques and shops dotted throughout the USA and abroad.
"She's amazingly talented," raves Blue Moon owner Katie Gagnon. "Her products have a vintage look and feel so they fit in very well in here. I like to arrange them in vignettes around the store, which is kind of fun."


Jennings also makes a richly scented potpourri that she stirs and "melds" over several weeks to create a scent that lasts longer than usual.

One summer variety smells like the ocean and contains bits of sea glass and shells. A winter version delivers the heady fragrance of Christmas trees and comes with real jingle bells tucked inside the package.
"I've had people tell me that it still makes their homes smell good months later," she says.


The beautiful chunks of handmade soap are cured on Jennings' dining room table. When finished, the soaps wear the earthy Sweet Harvest Farms paper labels.

A style all her own.The Sweet Harvest brand extends to Jennings' personal decorating style, something she developed living in far-flung places as an Air Force wife.


The couple, who will celebrate their 25th wedding anniversary in a few weeks, have moved 15 times. Jennings manages to make every home beautiful.The proof is in the pictures she whips out of the neglected plantation house in Camden, S.C., that she transformed with a collection of antique furniture and flea market treasures.
"It has to have character, old or new. I only surround myself with things that make me smile," Jennings says.


She's a fan of antique tarnished silver, old wooden wardrobe cabinets, even an 1800s French dressmaker's mannequin that stands in a hall bathroom.

The wooden swan atop the fireplace mantel rests on an antique ammunition box; the primitive wooden cabinet next to the TV is actually an authentic grain bin, probably a century old.


The secret to her uncluttered look?
"It's really funny," she says. "I'll pick up things because I like them. Then I'll live with them for a while and then rotate them out of my collection."


Jennings, who once owned her own boutique in Destin, FL (customers included Tom Cruise, Rob Lowe and Jim Carrey) explains that another secret to keeping a house looking put together and uncluttered is investing only in furnishings that have a double use. The antique pine chest in front of her gorgeous, pale-blue sofa doubles as storage for games and magazines. (The sofa, a secondhand find, was purchased for $350 on Craigs List.)


Antique picture frames dress up her bathroom mirrors, and vintage mirrors hang in an artful cluster off the front hallway for fast primping. A cabinet in the front hall serves as a display case for family heirlooms. Atop the cabinet and in an antique child's rocker are handmade primitive angel dolls that Jennings makes from muslin. The dolls, which retail for around $200, have soulful, decidedly non-cute faces and often wear the antique christening gowns Jennings collects. And true to her childhood passion, her folk art paintings adorn all sorts of utilitarian objects, including New England sap buckets.


Sweet tea, anyone?
Jennings, friendly and down to earth, still speaks with a hint of her native San Antonio, Texas, accent. She greets guests with homemade sweet tea and a plate of hummus and pita. She has raised four kids and has six grandchildren. The two-story yellow house that is Sweet Harvest Farms is usually filled with friends and kids and the Jenningses' dogs, a Goldendoodle named Teddy and a rescued Bichon Frise, Collette.


The couple plan to have their family gather around them when they renew their vows at Blue Moon in a few weeks.
Jennings said she picked the store for the same reason she picks her own houses and furniture.


"We could have rented a fancy hall," she said, "or had the same event in a place where I can be surrounded by things that have a history and a story behind them."