Sweet Harvest Farms All-Natural Skin Care
from Mariel Hemingway
Sweet Harvest Farms produces everything by hand, in small-batches, using pure ingredients..I love to find products that not only make my skin look and feel (and in this case, smell!) amazing, but are as natural as possible. I recently discovered Sweet Harvest Farms, a skin care company that produces everything by hand, in small-batches and using the purest ingredients available.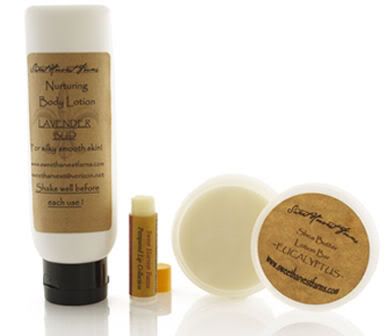 The lavender body lotion is amazing. It's rich in all-natural ingredients such as cocoa butter, vitamin E, jojoba oil and aloe, all of which hydrate and soften my skin. And the lavender scent is so lovely and relaxing. Perfect for applying after a bath and de-stressing at the end of a long day.
The shea butter bar is my cure-all for areas that need a little extra TLC like my heels, elbows and cuticles. It only takes one dab to experience intensive moisturizing therapy.
Then there's the lip balm, which comes in a sweet "very berry" flavor. Unlike some lip balms that contain petroleum-based ingredients (who wants to put petroleum anywhere near their lips?!), this soothing balm is made with soy wax, jojoba oil, coconut oil, and other natural ingredients. Not only does it nourish and protect my lips...it also tastes great!
Need another reason to love this trio? All items are packaged in recycled materials. Hope you love Sweet Harvest Farms as much as I do!
xo,
Mariel
The Details
Sweet Harvest Farms is a cottage industry run by family members only. Their products do not contain mineral oil, which is a petroleum byproduct, nor do they contain Lanolin which is a wax derivative of Sheep's wool, and can cause allergies.
Nurturing Body Lotion
Ingredients: Coco Butter, Shea Butter, Vitamin E, Soy Wax, Jojoba Oil, Flaxseed Oil, Water, Aloe Gel, Citric Acid, Witch Hazel Extract, Lavender Extract, Chamomile Flower Extract, Sage Leaf Extract, Sesame Seed Oil, Wheat Germ Oil, Avocado Oil
Shea Butter Lotion Bar
Ingredients: Vitamin E, Shea Butter (from Shea Nut), Organic Palm Oil (sustainable), Jojoba Oil, All-Natural Soy Wax
Pampered Lip Balm
Ingredients: Soy Wax, Castor Oil, Jojoba Oil, Palm Oil(sustainable), Coconut Oil, Shea Butter, Vitamin E
Please note that all products contain Shea butter, which comes from the Shea Nut. Those with severe allergies to nuts should exercise caution.
Simply go sign up at ShopOpenSky.com (its FREE) and view Mariels promotion of Sweet Harvest Farms!!!