Tou' Shave!
Men's Shaving Soap
Finally after a year of research, formulating and tweaking we now have an amazingly luxurious, natural and gentle shaving soap that will leave your face supple and soft without that dry, taunt skin that you might find with others on the market. Like all Sweet Harvest Farms body soaps, our shaving soaps retain 100% of the natural soap glycerin produced by our cold processed method.
What you will find is a shaving soap that has a soft, rich lather which both strong enough for the toughest of faces yet gentle enough for the most sensitive of skins.
All of our soaps are handmade in small batches to ensure the highest quality possible and our soaps lather due to our own unique recipe - not because of added harsh detergents you might find elsewhere.
Each 7 oz bar is made to fit into a unique galvanized cup and should last for months! Brush provided is an authentic Silver Tip Badger Brush.
To use, wet your brush with hot water (make sure the brush is thoroughly wet) then give it a shake or two to get rid of excess water. Rub your brush briskly around over the top of the shaving soap with slight pressure to force soap down into the bristles. Once lather starts to form continue rubbing the brush onto the soap for 30 seconds to one minute making sure enough soap is on your brush.
You can then run the brush directly over your beard gently, yet with vigor, so lather will start to build (adding little drops of water to keep working up a lather). It may take several shaves before you find just the right combination of hot water and soap to suit your beard. If the lather is producing bubbles or is too watery you may need to load more soap unto the brush. Everyone's beard is different in texture and thickness so don't give up if you have never used a shaving soap! This is NOT a shaving cream that just pumps out of a can! This is the "real deal" and you will find the experience, close shave and amazingly soft skin worth the effort!
Organic Ingredients: Palm Oil (sustainable), Shea Butter, Coconut Oil, Castor Oil, Colloidal Steel Cut Oatmeal, Vitamin E, Rosemary Extract, both Kaolin and Bentonite Clay (for a nice slip so the razor glides easily).
Enjoy!
SHAVING KIT(shown above)
(Galvanized cup, Soap & brush)
$ 56.00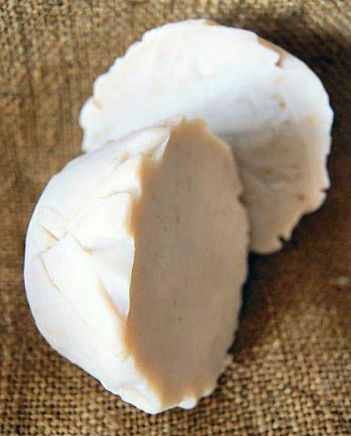 LARGE 7 OZ BAR
$15.00
SCENTS AVAILABLE Bayberry Rum

Amore'

Unscented

Eucalyptus Thyme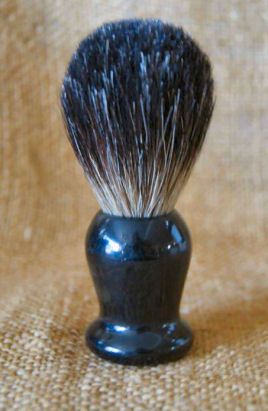 BRUSH
$20.00
$14.00